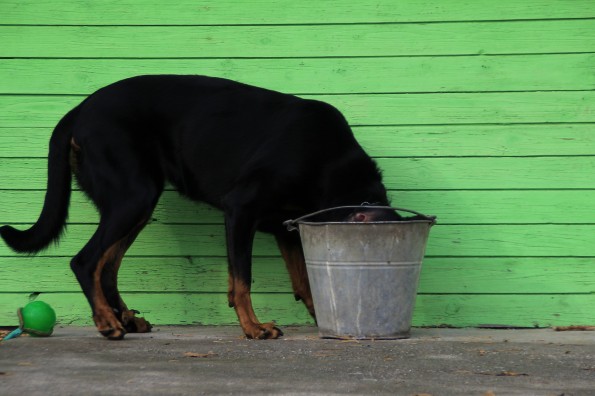 Does your dog have diabetes?  Are you scared to death?  I know I was when my first dog was diagnosed with diabetes but, I am living proof that everything will be fine.
Let's step back and first talk about what diabetes it.  It is a disease of the pancreas.  The pancreas is an organ that produces insulin.  Insulin "opens the door" to a cell, allowing glucose (sugar) into it.  Without an "open door" the cell starves setting in motion a series of events that result in diabetes mellitus.  The classic signs of diabetes are increased hunger, thirst, and urination, also weight loss due to excessive glucose in the blood.  Once we notice these signs in our dog we call the veterinarian and beg for an answer.  They will need to run a couple of tests to get the correct diagnosis.  Getting a urine sample and a blood sample are two very important tests that the veterinarian will need to correctly diagnose your pet.  Diabetics will pass high levels of glucose in their urine and also in their blood.  The blood glucose will be much greater than the normal levels of 80-120 mg/dl.
So now that we have a diagnosis, our minds kick in and we get very nervous.  Questions like how am I going to do this?  How expensive is this going to be?  Will my dog have a good quality of life?  The answer is…you can do it and your animal can live happy and healthy with diabetes.  I am going to walk you through what you as a pet owner will need to do and what you should expect. 
DIET:

 

Most times the veterinarian will advise a prescription diet.

 

The prescription diet is used to help regulate the blood glucose levels from having large spikes and falls.

 

Let's make this easier to understand.

 

When we eat a balanced diet, it allows our body to regulate our glucose with insulin more efficiently.

 

When we eat, our glucose levels rise and our body then kicks in to produce insulin to lower it.

 

Unfortunately, our pet no longer produces insulin so we have to provide it for him.

 

With a balanced diet this process is much easier to control.

 

INSULIN:

 

Insulin is a product that either you can buy at your veterinarian's office or a human pharmacy.

 

It is given with a special syringe that goes with the type of insulin your veterinarian prescribes.

 

The injections are given every 12 hours under the skin after your pet has finished their complete meal.

 

It is important that your pet eats

before

the insulin injections are given.

 

The rule is- no food equals no insulin.

 

The veterinary staff will demonstrate how to give the injections and will make sure that you feel comfortable giving them.

REGULATION:

 

The pet needs regulated amounts of treats and exercise to maintain a normal blood glucose level.

 

Another part of regulation is scheduled trips to the veterinary office for blood work.

 

They will ask that you feed and give insulin to your pet in the morning and then bring them to the office for blood glucose draws to monitor the levels throughout the day.

 

These appointments are called glucose curves.

 

The "curves" will allow the veterinarian to make decisions on an increase or decrease in the amount of insulin your pets needs.

 

These appointments are important because they will help minimize the classic signs of diabetes and will allow your pet to live a happy and healthy life.
Also note, if you have a female intact dog you should schedule an appointment to get her spayed.  The heat cycle can make the glucose levels fluctuate and may make it hard to regulate. 
Now, take a deep breath and relax.  Diabetes isn't as scary as what our mind makes it out to be.  Always remember that the veterinary staff is there to help you through this process.  They can demonstrate, answer questions and hold your hand through this life long transition for your beloved pet. 
If you are worried that your dog may have diabetes or just need to ask some questions, please contact Bellevue Animal Hospital at (419) 483-6345 or Sandusky Animal Hospital at (567) 256-3615. 
-Blog post Written by Christina Lowe, RVT