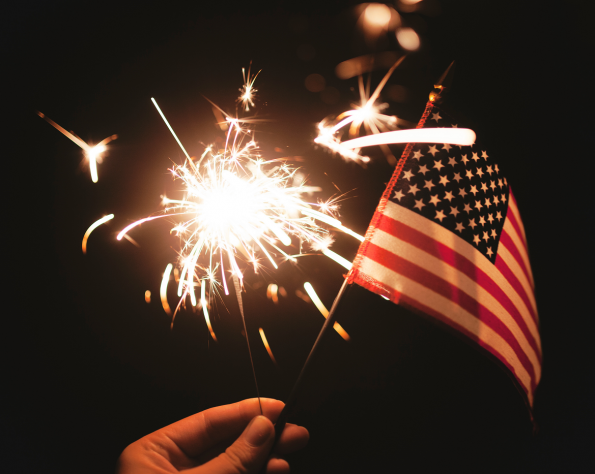 The Fourth of July, for most humans, is a time of fun, festivities, and food. For animals, it is noise, flashes, and the burning smell of fireworks; it is scary, causing anxiety and panic in our furry friends. Pets can panic at the sound of fireworks, and run into the night, often getting lost or injured. Shelters report a dramatic increase in lost pets during this holiday. In order to keep your day of celebration from turning into a day of tragedy, here are some tips from the ASPCA and Humane Society.
Keep your pet indoors at all times. It may seem obvious, but even outside pets can be afraid of fireworks and break their chains or jump a fence to get away and find safety.
Use pet friendly insect repellent. The same tip applies to "people" sunscreen on your pet. What is not toxic to humans can be toxic to pets. The ASPCA lists the poisonous symptoms of sunscreen on pets as drooling, vomiting, diarrhea, excessive thirst, and lethargy. "DEET", a common component in human insect repellents, can cause neurological issues in pets too.
Keep pets way from citronella insect control products. Oils, candles, insect coils, and other citronella based repellants are irritating toxins to pets, according to the ASPCA. The result of inhalation can cause severe respiratory illness, and ingestion can harm your pet's nervous system.
Never give pets alcohol. Again, this may seem obvious, but alcohol is extremely dangerous to pets. Even small amounts of alcohol can cause your pets to become dangerously intoxicated, go into a coma, or in severe cases die of respiratory distress.
Leave your pet at home. While it may seem like fun to bring your pet to a fireworks display, the safest place for him is at home. Being in an unfamiliar, crowded, noisy place with fireworks going off could make your beloved pet very stressed out causing him to exhibit out of place behaviors like biting or running away. Leaving him in a car is not an option either. Even at night, it can get way too hot and cause heat stroke.
Have your pet properly identified. Without proper identification, it is difficult to retrieve a lost pet. Consider fitting your pet with Microchip Identification or ID tags listing her name and your phone number. Also, take a photo of your pet so that you have a recent picture in case she does get lost.
Don't give your pet 'Table Food'. If you are having a backyard barbeque, you may be tempted to slip some yummy snacks to your pet. But like beer and chocolate, there are other festive foods that are harmful to your pet. Pork, onions, coffee, avocados, grapes, raisins, salt, and yeast dough are all possible hazards to pets.
We at Bellevue and Sandusky Animal Hospitals want you and your pet to have an awesome, safe Fourth of July. For dogs that get particular anxious at this time of year, we do carry the Thunder Shirt, a safe and effective, drug free solution that is great for thunder, fireworks, separation anxiety, leash pulling, car/air travel, barking and licking. We also carry Pro-Quiet a tablet that works naturally with your pet's system to help calm them in times of stress without sedating them.  And, as always, we have Microchips available to give your pet a permanent identification for travel and to assist in the finding of lost pets.
If you have any questions about these products or just want to talk more about pet stress and anxiety, please contact Bellevue Animal Hospital at (419) 483-6345 or Sandusky Animal Hospital at (567) 256-3615. 
-Blog post Written by Deborah Vincent